Where Humans and Nature Become one!
A stay at Embalakai Authentic Camps offers the opportunity to experience the sights, sounds and smells of the magical Serengeti from the comfort of your luxury tented accommodation.In the evening, you can take a moment to relax on the deck or by the campfire under the Serengeti dark velvet night sky whilst looking up at millions of stars overhead in the pure unfiltered wilderness.
There is no greater feeling than 'letting go' and embracing the beauty of present moment life, living on natures clock where time is determined by the sunrise and sunset, allowing the day's events in between to unfold in their own magical
Superior Suite River View
Embalakai  Camp has 13 spacious tents which can be set up for single, double, triple or family occupancy. We can host groups of up to 30 persons and have netted bedding available for babies (on request). Our rooms are set up to provide the ultimate comfort for our clients.
The Serengeti National Park is considered to be the most famous National Park in Africa and has been voted 'Africa's Leading National Park 2020' by the World Travel Awards. The Serengeti is renowned for its incredible concentrations of predators, its phenomenal abundance of wildlife alongside some of the most spectacular bird watching opportunities in the region.    The Great Serengeti Migration of two million wildebeest  is world famous and has to be seen to believed. Any Serengeti safari is guaranteed to be exceptional.
We can host groups of up to 30 people and have netted bedding available for babies (on request). Our rooms are set up to provide the ultimate comfort for our clients
Exceptional safari experiences in Africa's untouched wilderness.
The camp is located in a stunning location that runs alongside the Nyabogati River which allows our guests to be fully immersed in nature with a variety of Serengeti birds and wildlife all around.  The area is splashed with acacia tress and provides the perfect opportunity to see the sunset behind the distant hills.
Guests Arrival
On arrival,our guests will be met by our wonderful team of staff, offered a refreshment towel and a cool beverage as they are briefed on the important details of the campsite.
Sun Downer
Sun downers are the perfect way to relax after a busy day spotting wildlife. A refreshing drink served on the deck whilst watching the sunset over the African Bush.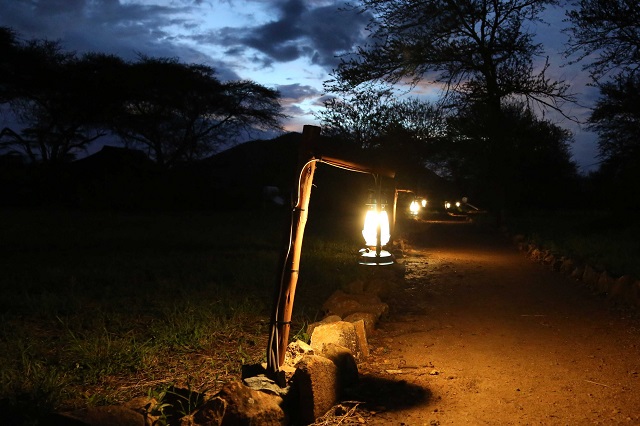 Eco friendly
We use low impact energy creation wherever we can,and try to minimize waste in the camp. We are plastic free as much as possible, use solar powered light, recycle and loads more.
Excellent place in Serengeti
.... a national park and wildlife refuge on the Serengeti Plain in north-central Tanzania.
Excellent place in Serengeti,i have been staying at Embalakai Camp for about a week and i can surely recommend this camp,They have specious tents with comfortable beds,well trained staff and Delicious meals.I am planning to come back with family next year.
thank you so much Embalakai Camps for experience of a life time.